Since I've posted my last English-language column here, I've received a few kind mails from my American and British friends, asking me why I don't update the column more often in English. Thank you. Yes, I'd like to do so, if I could. But the problem is I can't. As you can well imagine, writing in English is not so easy to me and a weekly one is at most I can.
 Since updating the last column, I'm still here in Lincoln. It has been just lovely days for me. Honestly speaking, I've never expected I would enjoy here this much. Surely it has been far more than "just corn fields" as some of my co-travellers warned me in an Amtrak train in California. Here among many kind people, I've met a firefighter, Brian. He has been super kind to me, taking me to the places I would have had difficulty otherwise. It was a godsend to me.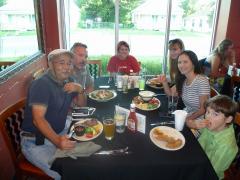 I'm not sure I stated clearly the object of this little journey of mine. It is to travel the US, visiting those places related to great American literary works and consider their significance they hold today. And of course I wish to know more about this country and its people and share my thoughts with people in Japan.
 In Salinas it was John Steinbeck. In Fresno it was William Saroyan. He is a writer with Armenian heritage. Maybe not so well-known in modern US, although he wrote a fabulous novel, "The Human Comedy" in 1943, depicting the days when America was very young and full of energy and good hope for future. The writer was born in Fresno and died there.
 In Lincoln it was Willa Cather, author of such books as "O Pioneers!" and "My Antonia." Cather spent her younger days in a prairie town, called Red Cloud, about 150 miles from Lincoln. Her description of the life in Nebraska's prairie in the 1880's and 90's is a song of praise for people, many of them immigrants from Europe who had worked hard to survive and prosper from scratch. Of course there still remains the fact that in the course of the development indigenous Indian people had been killed and eventually driven away into reservations.
 I'm not a scholar on American literature. I've just enjoyed reading some of the masterpieces in the past. In this trip, while I'm doing travelling, I try to reread those books I intend to write about. Sadly enough, most of the things in those books I know I've read are gone from my memory. Thus the need to reread!
 Now I'm reading "In Cold Blood" by Truman Capote again, as I plan to visit Garden City, Kansas. To my surprise I find so many episodes, not remembering them at all. For example, a non-alcoholic drink, called "root beer." I thought I've never heard of this drink, before tasting it for the first time here in Lincoln. But it is the favorite drink one of the criminals in the Capote's book loves.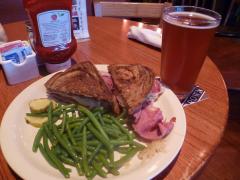 I'm a very slow reader, even when reading Japanese novels. It was almost a torture for me to finish "Gone with The Wind" recently. I have quite a few novels, I'm afraid, to reread in this journey. As it is too heavy to carry those books, I buy used ones on the way, as I've done so with the Capote's book in Lincoln.
 I wouldn't mind spending much of my time in reading. After all it's a great pleasure to indulge myself in rediscovering great literary works. The problem is that there are some other things I wish to do. For example watching TV is something I enjoy here very much. I don't watch TV much in Japan, except the news program and sports live broadcasts.
 But here in US TV is fun. There are too many good programs. First the baseball games, which seems to be available everyday two or three games alive, due to the time difference. Some cartoons are incredibly hilarious. I can stay in my hotel room happily, without stepping out of the room, for several days. I don't do it of course. I've got to go out and see things in town. I got to write up my Japanese blog. Then I've got to read the local newspapers and other staff.
 Oh, dear. Time fries, I mean, time flies, here in US.
 (photos: Dining with Brian and his family at a restaurant in Lincoln; my favorite food and drink, called "Classic Reuben" and "Burning Skye" at a downtown restaurant "Lazlo's")