Home > Random thoughts
アメリカをさるく
«Prev |
 Since I've posted my last English-language column here, I've received a few kind mails from my American and British friends, asking me why I don't update the column more often in English. Thank you. Yes, I'd like to do so, if I could. But the problem is I can't. As you can well imagine, writing in English is not so easy to me and a weekly one is at most I can.
 Since updating the last column, I'm still here in Lincoln. It has been just lovely days for me. Honestly speaking, I've never expected I would enjoy here this much. Surely it has been far more than "just corn fields" as some of my co-travellers warned me in an Amtrak train in California. Here among many kind people, I've met a firefighter, Brian. He has been super kind to me, taking me to the places I would have had difficulty otherwise. It was a godsend to me.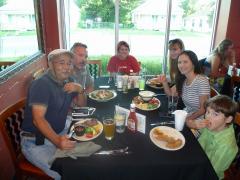 I'm not sure I stated clearly the object of this little journey of mine. It is to travel the US, visiting those places related to great American literary works and consider their significance they hold today. And of course I wish to know more about this country and its people and share my thoughts with people in Japan.
 In Salinas it was John Steinbeck. In Fresno it was William Saroyan. He is a writer with Armenian heritage. Maybe not so well-known in modern US, although he wrote a fabulous novel, "The Human Comedy" in 1943, depicting the days when America was very young and full of energy and good hope for future. The writer was born in Fresno and died there.
 In Lincoln it was Willa Cather, author of such books as "O Pioneers!" and "My Antonia." Cather spent her younger days in a prairie town, called Red Cloud, about 150 miles from Lincoln. Her description of the life in Nebraska's prairie in the 1880's and 90's is a song of praise for people, many of them immigrants from Europe who had worked hard to survive and prosper from scratch. Of course there still remains the fact that in the course of the development indigenous Indian people had been killed and eventually driven away into reservations.
 I'm not a scholar on American literature. I've just enjoyed reading some of the masterpieces in the past. In this trip, while I'm doing travelling, I try to reread those books I intend to write about. Sadly enough, most of the things in those books I know I've read are gone from my memory. Thus the need to reread!
 Now I'm reading "In Cold Blood" by Truman Capote again, as I plan to visit Garden City, Kansas. To my surprise I find so many episodes, not remembering them at all. For example, a non-alcoholic drink, called "root beer." I thought I've never heard of this drink, before tasting it for the first time here in Lincoln. But it is the favorite drink one of the criminals in the Capote's book loves.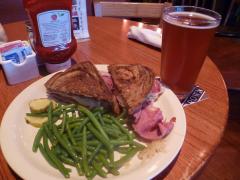 I'm a very slow reader, even when reading Japanese novels. It was almost a torture for me to finish "Gone with The Wind" recently. I have quite a few novels, I'm afraid, to reread in this journey. As it is too heavy to carry those books, I buy used ones on the way, as I've done so with the Capote's book in Lincoln.
 I wouldn't mind spending much of my time in reading. After all it's a great pleasure to indulge myself in rediscovering great literary works. The problem is that there are some other things I wish to do. For example watching TV is something I enjoy here very much. I don't watch TV much in Japan, except the news program and sports live broadcasts.
 But here in US TV is fun. There are too many good programs. First the baseball games, which seems to be available everyday two or three games alive, due to the time difference. Some cartoons are incredibly hilarious. I can stay in my hotel room happily, without stepping out of the room, for several days. I don't do it of course. I've got to go out and see things in town. I got to write up my Japanese blog. Then I've got to read the local newspapers and other staff.
 Oh, dear. Time fries, I mean, time flies, here in US.
 (photos: Dining with Brian and his family at a restaurant in Lincoln; my favorite food and drink, called "Classic Reuben" and "Burning Skye" at a downtown restaurant "Lazlo's")
 I've thought that I can update this English-language column on once a week or so pace. Now I know it's beyond my capacity. It is already almost 2 weeks from my first one.
 It is a bit too much for me perhaps. Traveling virtually every new week to a new destination, which I have no idea of what kind of place it is. Before the departure finding a comfortable accommodation with a reasonable rate (in this case meaning fairly inexpensive one). On arrival getting to know the place very quickly, walking around the town and wishing to bump into a good Samaritan generous enough to share with me some time, enlightening me with some precious information about the place I had landed. Then, writing several articles on the writer I chose for the visit.
 And of course doing some quick sightseeing and if possible some pub or bar crawling at night. Of course without any extracurricular expectation. Those things are bygone days. Then thinking my next destination and finding out the way how to get there with a public transportation, which is not so easy to find in this vast country, which depends exclusively on personal vehicles. I have got an international driving permit before this journey just in case. But I do hope there never come a day when I need to drive a rental car here in US. I'm a lousy driver, let alone maneuvering to drive the opposite lane of the road from Japan.
 Yesterday was a very good day for Japan. Our women's soccer team won the World Cup. Incredible! To be honest, I've never thought it's possible for us to defeat USA team. When I watched the early parts of the first half, dominated by taller and more powerful USA players, I was afraid the game might turn out to be a massacre for our physically inferior "nadeshiko" players. Nadeshiko means Japanese girls with not only delicate beauty but also strong willpower. I thought if they could have lost the game with a score of something like 1 to 3 or even 4, it would be regarded as a blessing.
 How I was wrong! I was just thrilled by their dramatic comeback at the very last stage in the overtime zone. Even before that equalizer by the team captain, Homare Sawa, Japan team threatened with a cool and well-coordinated plays in the later stage. Yes, it was a very good game. Penalty shootout was quite exhilarating for me and also, I'm sure, for very many Japanese people who had been glued to their TV screens without any sleep until early Monday morning without any sleep.
 USA TODAY newspaper wrote on July 11, the next day of the USA team's also miraculous comeback victory over Brazil in the quarterfinal: "If Americans don't fall in love with soccer after this, well, maybe they never will." It could be true in Japan, too. Soccer is trailing far behind baseball in the popularity. I mean here men's soccer. I've myself never taken any interest in the women's game. Except Sawa, I don't know the names of other players. I suppose it was the same with many other people in Japan, up until the small hours of Monday morning or at least recently.
 One last and nonetheless significant thing. I was very impressed by US players' reactions right after the game. Notwithstanding the devastating defeat, they did not forget to praise Japanese players' spirit and resilience. US star forward, Abby Wambach congratulated the Japan team, saying something like "I feel devastated…I give Japan credit. They just never gave up." Hope Solo, a solid goalkeeper said fighting back her tears, something like "Japan played a great game. It was fun to watch. If we had to lose to somebody at the final, I'm glad that it was to Japan." What a gracious loser and what a sportsmanship! They deserve the biggest praise.
 The first name of the Japanese captain, Homare, means honor or glory in Japanese. I've never met any Japanese with this name. It's that rare. What an apt name their parents named their daughter 32 years ago.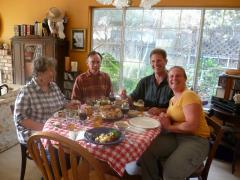 I have just started a little journey in the United States. I have done a similar trip through Africa last year around this time of the year. This time I plan to visit the places where I can find some relevant information on some of the great American novels. I hope that I can publish a book based on these experiences eventually sometime next year.
 I visited the US for the first time back in 1974. I can't believe it was nearly 40 years ago. Then I went to a small college in Georgia for a year. I was a 20-years old student. Just a young boy. Honestly speaking I did not know much about the South or the Civil War beyond the surface. I am ashamed to admit it now in this way.
 I had worked for a Japanese newspaper for more than 30 years until my retirement last year. I was once a correspondent for the paper in Nairobi and London. I guess after all these years and experiences, maybe I have something to contribute now for the general public in Japan. Visiting the US again and sharing my thoughts on America and its people was something I have been thinking in the recent years.
 We have a Japanese proverb that says "Wataru seken ni oni wa nai." The literal translation is "There are no demons in the world." My electric Japanese-English dictionary translates it into "You will find many kind people in this world." For me it surely was proved to be true over there in Africa last year. And now again in the US it is so. I have come across many kind people since arriving at Los Angeles late June.
 R.J. and Monica were those people. I was in Salinas, California last week. It was my first destination to do a few articles on John Steinbeck, author of "The Grapes of Wrath." I bumped into R.J. at downtown Salinas and started up a chat. He had a daughter who is keen on Japanese food. Naturally we had something to talk about. He kindly drove me in and around Salinas. I ended up at his home the next evening. There were another couple invited before me, David and Ellen. We had a really nice dinner prepared by R.J's vivacious wife, Monica. I have felt like I have known them for a long time.
 The food was very good. For a starter I enjoyed cold bowl of vegetable salad and fruits. I had two bottles of local fruit-flavored beer. The main dish was well-roasted chicken. I had what is called artichokes for the first time. It tasted like avocado. No wonder people here call the area of Salinas Valley "the salad bowl of the world."
 The reason I visited Salinas was it was the place of Steinbeck. He was born here in 1902 and spent his childhood days. There now stands the National Steinbeck Center near the house where he lived at downtown Salinas. In the Center I could have a glimpse of his early life through various historical items and video tapes.
 Incidentally Steinbeck who won a Nobel Prize in 1962 inspired me into this journey with his another book, "Travels With Charley in Search of America." The book is an account of his four month trip at the age of 58 in the states to rediscover his own country. In the book he writes. "A journey is a person in itself; no two are alike. And all plans, safeguards, policing, and coercion are fruitless. We find after years of struggle that we do not take a trip; a trip takes us."
 He drove a truck, equipped with basic cooking and sleeping facility, with a travel companion, a French poodle, Charlie. He called the car Rocinante. Of course it is the name of the horse from the famed book "Don Quixote." He named the car so as some people regarded the trip so Quixotic.
 I have been feeling a bit like Don Quixote myself lately. I had retired voluntarily from the above-mentioned newspaper, four years earlier than the ordinary and official retirement age of 60. My colleagues of my age group are still working happily there. To them my venture on my own must be just like that of the insane knight-errant of La Mancha.
 Don Quixote who goes in search of adventure to the amazement of those who know him, dies with the following words: "Gentlemen, let us proceed fairly and softly: Look not for this year's bird in last year's nests. I was mad; I am now sober."
 I am afraid I am still a bit mad.
 (In the photo, the two on the right are R.J. and Monica)
 (I will be writing this English-language column occasionally during this little journey, purely for American people I would get to know hopefully. For Japanese readers please bear in mind the fact that this is not rewritten to make it correct English by any native staff rewriter as my past English language articles which had appeared in The Daily Yomiuri, English-language newspaper. Beware of very crude English.)
«Prev |
Home > Random thoughts









by 那須省一

1954年宮崎県西都市生まれ。宮崎大学教育学部英語科卒業。読売新聞社国際部、英字新聞部勤務を経て、編集委員を最後に早期退社後、アフリカ、アメリカ、英国及びアイルランドといったかつて特派員として勤務した地などを再訪。それぞれの旅の成果は『ブラックアフリカをさるく』『アメリカ文学紀行』『イギリス文学紀行』として発表。他にはマーク・トウェインの中編小説 "Pudd'nhead Wilson"の翻訳『二人の運命は二度変わる』や"Constance : The Tragic and Scandalous Life of Mrs Oscar Wilde"の翻訳本『オスカー・ワイルドの妻コンスタンス 愛と哀しみの生涯』も(いずれも書肆侃侃房発行)。現在は福岡市在住、大学で非常勤講師(英語)。

このブログは2011年6月から手がけている、アメリカをさるく(歩く)旅の報告である。 趣味は本人曰く、「おそらく60歳代に開花するだろう」ゴルフと、これも本人曰く「必死こいて遅さを競うオリンピックがあれば国内の予選会ぐらいには出れるであろう」水泳。

Recent Entries

Categories

Archives

Comments
Search

Feeds